Posted on
April 14th, 2006
by Teddy Ballgame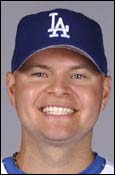 5'9″ 203 pound Cody Ross put all his weight into a couple of big flies against the Pittsburgh Pirates. The first came in the 5th inning and broke a 2-2 tie, putting the Dodgers up by four, a Grand Salami! His next homer was a three run blast in the very next inning, putting the game on ice.
Cody Ross 3 for 5, 2 HRs, 1 GS, 7 RBIs, 2 runs
No tags for this post.