Posted on
April 17th, 2006
by The Baseball Zealot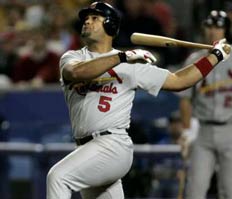 Albert fit in a week's work in an afternoon on Easter Sunday.  His last dinger really counted, winning the game for the Cards. 
It was Pujols' 14th multi-homer game and 2nd game which he hit 3 homeruns.
Mark Mulder and Bronson Arroyo were the starters of the game.  Offensively, they have combined for three HRs previously in this short season.  Ironically, they each both gave up two homers in this game.
Albert Pujols 3 for 4, 3 HR, 4 runs, 5 rbis, 1 BB
No tags for this post.