Posted on
April 28th, 2006
by Teddy Ballgame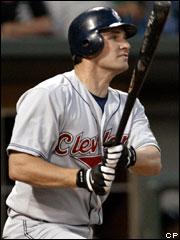 Josh Beckett threw them in there and Ben Broussard hit them out of there. I couldn't believe when I watched Ben's highlights of this game on ESPN before Broussard stepped in to face Beckett with the bases loaded Ben yawned. Talk about relaxed, or maybe lack of sleep. Whatever it is, is working.
Ben Broussard 4 for 5, 2 HRs (1 a GS), 8 RBIs (7 with 2 out), 2 runs, .407 season average
No tags for this post.