Posted on
April 30th, 2006
by leeknay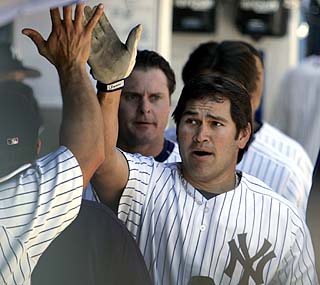 5 AB, 5 R, 3 H, 2 HR, 3 RBI, 1 SB
Johnny Damon played a big part of the Yankees' rout of the Blue Jays on Saturday, 17-6. One of his two home runs was an upper deck blast. The five runs he scored was a career high for the former caveman. Among his postgame comments:
"It's just the way I play this game. That's the one thing you can always do, is to go out there and hustle. It is a good example, not just for our team, but for the Little Leaguers coming up."
These days you don't hear the pro ballplayers speak to their young fans. It's nice to hear Damon recognize that the players are setting examples for the kids who also play the game. Are you listening, Delmon Young?
No tags for this post.