Posted on
April 6th, 2006
by The Baseball Zealot
Ivan Rodriguez, Detroit Tigers
5 for 5, 3 2B, HR, 5 rbis, 3 runs
When scrolling down the box scores of yesterday, Detroit was listed first.  When I saw IRod's performance, I stopped right there.  "We have our winner", I thought.
Ivan had a "down" year in 2005 (.276, .290, .444).  His 5 for 5 effort will certainly set him off on the right foot in 2006.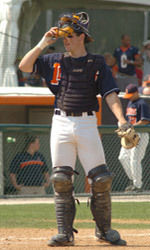 Chris Robinson during his Illini days
Speaking of Tiger catchers, former Illini catcher Chris Robinson got to spend some time in the bigs with even if it was during spring training.  The London (Ont.) Free Press has a great article detailing his latest efforts.  Illini fans check it out.
No tags for this post.