Posted on
April 7th, 2006
by Teddy Ballgame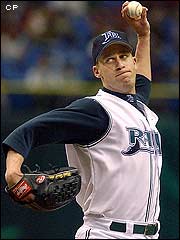 Mark Hendrickson tossed a three hit shutout at the Baltimore Orioles yesterday. The Devil Rays defeated the O's 2-0. It was Hendrickson's 2nd career shutout, the first was a rain shortened affair. Mark completed only one game in 2005.
M. Hendrickson (W, 1-0) 9 3 0 0 1 5 0 0.00
No tags for this post.