Posted on
April 7th, 2007
by Teddy Ballgame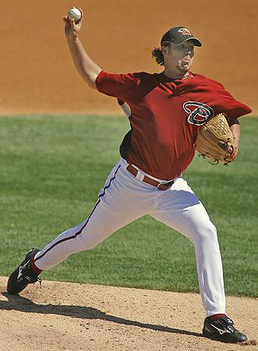 Micah Owings
Arizona IP H R ER BB SO HR ERA
Owings (W, 1-0) 5.0 1 0 0 3 6 0 0.00
Micah Owings kept on rolling, upping his winning streak to 13-0, as he pitched one-hit ball over five innings of work in his big league debut against the Nats. The 6'5″ 220 pound righthander's streak began May 23, 2006: That includes 2-0 at Double-A Tennessee and 10-0 at Triple-A Tucson last season.
Micah struckout six, including Ryan Zimmerman, on three pitches, with the bases loaded, to end the 5th inning. Owings slapped his glove three times, his first real show of emotion, as he exited the mound. Zimmerman was quoted as saying the pitcher has the advantage when there are no films on the guy and you only go on scouting reports, however Ryan faced him in college. Zimmerman's response to this was, "He's gotten a lot better since then".
Owings held Washington scoreless walking three and hitting two batters over his 96 pitch performance. Right now this Arizona hurler is filling in for Randy Johnson, but the Diamondbacks may be forced to keep him in the rotation if he continues to sparkle. His next start will be Wednesday against the Reds.
While at Georgia Tech & Tulane this talented ballplayer did it with his bat as well as his arm. He batted .318 at Tech and .355 at Tulane, hitting 15 & 18 homers respectively.
No tags for this post.