Posted on
April 8th, 2007
by Teddy Ballgame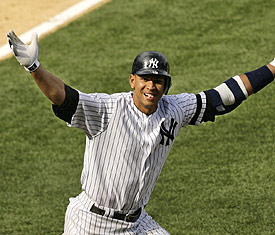 AROD MVP

Alex Rodriguez 3 for 4, 1 BB, 1 2B, 2 HRs, 6 RBIs, 4 runs, 1 WALKOFF GS, .389 BA
The Bronx is a tough place to play baseball. The House that Ruth Built was the setting for Saturday's heroics. The New York Yankees were center stage. The Yankees, you either love them or you hate them. The highest paid baseball player was at the plate. The richest millionaire on a team of millionaires. Alex Rodriguez, you either love him or you hate him. There is always the pressure you must come through when you are the best, it is what is supposed to happen, you are supposed to come through, always. You are expected to win championships, always.
But sometimes circumstances get in the way of what is supposed to happen. Alex Rodriguez was traded to the Yankees. It was a match made in heaven, the best player money could buy, going to the best team money could buy. But sometimes money is not enough. And when championships did not happen, disappointment set in. The NY press & the Yankee fans took it out on ARod, after all it was his fault.
On this early spring Saturday when all things were possible Alex stepped into the batter's box with the bases loaded. All eyes were on him, the weight of the world was on his shoulders. George Steinbrenner's team trailed the Baltimore Orioles with two outs in the bottom of the 9th, as reliever Chris Ray hurled the sphere plateward.
This time the Mighty Casey did not strike out, it happened as it is supposed to happen, Rodriguez connected on a mammoth drive, that kept carrying, back, back, back, GONE over the centerfield fence. The statues of Yankee greats did not seem to mind the interruption as Yankee Stadium erupted in jubilation.
Maybe it's too early, but the chanting has begun… MVP MVP MVP
along with… LET'S GO YANKEES!!!
Things have a way of happening the way they are supposed to… World Championship 27
No tags for this post.