Posted on
April 9th, 2006
by The Baseball Zealot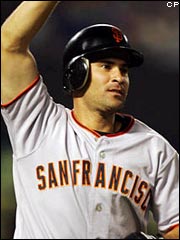 Omar Vizquel, San Francisco Giants
4 for 4, 2B, 3 runs, 5 rbis
In the Giant lineup of oldsters, Omar is showing some signs of life.  He drove in five from the leadoff spot. 
Honorable mention goes to Barry Zito who lowered his ERA 38.66 points to 8.59 but more importantly got the win for the A's.  He did it in style throwing one-hit ball in 6 innings with six strikeouts.
No tags for this post.