Posted on
June 4th, 2006
by The Baseball Zealot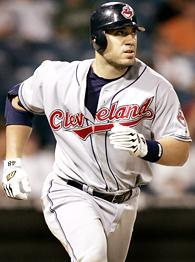 3 for 4, 2B, HR (GS), 2 runs, 6 rbis
Travis Hafner celebrated his birthday in a big way… yes, some in the media have even gone as far to say in a "Grand" way.  
Anyway, Hafner did put on a show for the Angels and Kelvim Escobar who saw his ERA rise above 4.00 for the first time since the first game of the season.
Meanwhile, Hafner (.311/.450/.626) is putting together a dynamite season.  He's already reached 15 homeruns and 50 rbis in 53 games. 
No tags for this post.