Posted on
July 9th, 2006
by The Baseball Zealot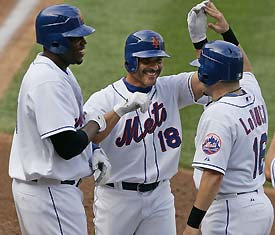 2 for 5, 3B, HR, run, 7 rbis
Jose Valentin had a grand slam and grand slam triple for total of seven rbis yesterday. Add to that a 5-rbi performance by Cliff Floyd and a handful of runs from other Mets and you get two touchdowns and a field goal. Final score: Mets 17 Marlins 3
Things weren't always so good for Jose this year. He started out poorly. It took him a couple weeks to get his first hit and he was 3 for 22 for April. Randolph was patient with him and by May he got into his groove (.320).
Valentin is certainly no superstar but he knows his role on the team and his filling it well.
No tags for this post.