Posted on
August 14th, 2006
by Teddy Ballgame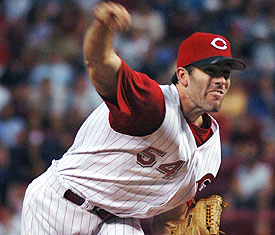 Luke Hudson's record dropped to 5-1 since his recall by the KC Royals as he had a start he'd like to forget. Here's how the Indians first inning went against Luke "General Custer" Hudson. Sizemore & Hafner walked with a single by Michaels sandwiched in between, Martinez singled home two, Choo doubled home a couple more, Garko singled, Peralta reached on a FC with Choo scoring & Garko reached 2nd on Berroa's error, Inglett singled to load the bases, Marte walked to plate Garko, Peralta scored on a Sizemore single, Michaels struck out, Hafner hit a Grand Salami, Martinez doubled to end Hudson's day, Wellemeyer retired Choo & Garko to end the 1st inning. Hafner's 35th home run was his 6th grand slam this season, tying his childhood hero Don Mattingly for the single season mark. The Tribe went on to beat the Royals 13-0 on the 13th, thank goodness it wasn't later in the month.
Luke Hudson L 1/3 IP, 8 H, 11 R, 10 ER, 3 BB, 1 SO, 1 GS
No tags for this post.