Posted on
August 16th, 2006
by The Baseball Zealot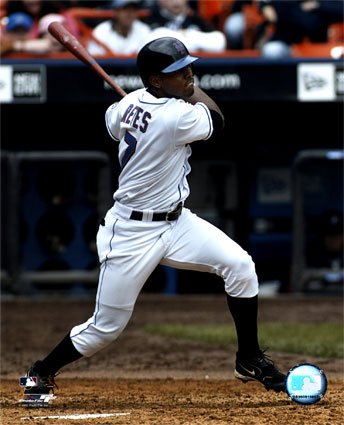 3 for 3, 3 HR, 4 rbis
Tough choice today.
I mean the Cubs and Astros battled for 18 innings. I stayed awake past midnight, long enough for them to play Chicago's (I'm talking the band now) "Does Anybody Really Know What Time It Is?" then konked out. Happily I found out this morning that we got the win. That's number 3 for Rich Hill. Did anyone think that Hill would get three wins this year a month ago? I'm not sure I did.
But 18-inning games were in vogue yesterday. Arizona and Colorado had their own late nighter. Anyone with Dback or Rockie pitchers on their fantasy staff must be happy this morning after the D-back 2-1 win.
Let's not forget the shutouts. Chris Carpenter, Pedro Astacio and a combined effort by the Dodgers (give Billingsley some credit, he pitched 7 innings) all pitched shutouts.
But no, let's give Jose Reyes the LSOTD today. 3 for 3 with 3 homers with 4 rbis. Unfortunately, it was a wasted effort as it the entire offense for the Mets. The Phils won 11-4.
Just last week, I had inquired to the availability of Reyes in the Illowa APBA League. Yes, I have Lugo but I have interest in Reyes. Some might say I'm interested because I have Lugo. Whatever.
Reyes happens to belong to Zealot writer DonS. We bantered back and forth a few offers but after last night's performance, I got a one line email:
Reyes hit 3 home runs tonight.

I think he wants to stay here.
Maybe JRoll is available.