Posted on
August 23rd, 2006
by Teddy Ballgame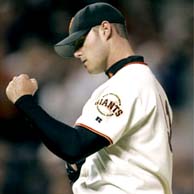 Had to give a shout out to my ole buddy Noah Lowry. I selected the lefty changeup artist in last year's rookie draft for my Chicago Champions of the Illowa APBA League. Then I included him in a deal along with a couple of high draft choices to acquire Mark Buehrle. Lowry seems to have his game altogether, while Buehrle has struggled to say the least. Although Noah was facing the offensively challenged Arizona Diamondbacks, a shutout is a shutout. Nice job by a pitcher I affectionately refer to as Whisper.
Noah Lowry W, 9 IP, 2 H, 0 R, 0 ER, 1 BB, 6 SO
No tags for this post.