Posted on
August 23rd, 2006
by Teddy Ballgame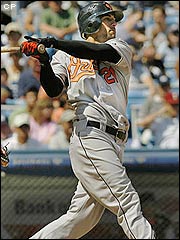 At the start of the season Markakis struggled for the O's. It looked like he was overmatched. NickyV even suggested the only reason he was in the lineup was due to his Greek heritage, Orioles owner Peter Angelos is also Greek. But now it seems Baltimore might have known what they were doing. Nick is now hitting in the #2 slot in the batting order and in this game single handedly defeated the hard charging Minnesota Twins 6-3, with his homers being the difference.

Nick Markakis 3 for 4, 3 HR's, 3 RBI's, 3 runs, .306
No tags for this post.