Posted on
August 25th, 2006
by Teddy Ballgame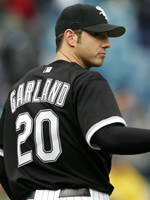 Jon Garland has been on fire for the White Sox winning 11 of his last 12 decisions. Garland was on the hill for Chicago in the 4th game of this important series against the Detroit Tigers. Jon was his masterful self turning the Tigers into kittens, shutting them out 10-0, and evening the series at 2-2. Jermaine Dye hit two home runs and is having an MVP season, but Juan Uribe's three run 4th inning bomb put the game on ice as the Sox were up 5-0 and never looked back.
Next up the Twins come to the Cell for a three game series. The Sox lead Minnesota by one game in the Wild Card race, and trail Detroit by five in the loss column for the Central Division of the AL. I'll be taking the L to the Cell for this big time weekend series against the Twins.
Jon Garland W 9 IP, 6 H, 0 R, 0 ER, 1 BB, 2 SO, 4.47 ERA
Followup: Mad props to leftfielder Pablo Ozuna for his hustlin' play to throw out Sean Casey at first base, too.
Here's the link to video. -tbz