Posted on
August 5th, 2006
by The Baseball Zealot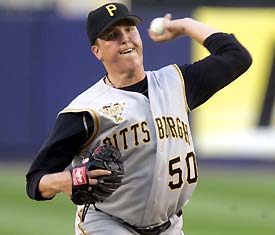 8 IP, 2 H, 0 R, 0 ER, 2 BB, 7 K (Win)
Pittsburgh rook Tom Gorzelanny is finding his groove.
After a decent debut on July 1, he suffered a couple blowouts before settling down. He allowed two runs each on his starts on July 23 and 29.
But his outing against the Cubs yesterday might show what Gorzelanny, a Chicago area native, is capable of. His minor league stats show a high K/IP.
Gorzelanny is 2-2 for the season and lowered his ERA to 4.41.
Trivia answer
The answer to the Bob Richards trivia question from yesterday: Chicago Bob was on the right track. Bob Richards was "The Vaulting Vicar" who was the Olympic gold medal winner from the University of the Illinois.
Two things you can gather from Richards' nickname… one, he was a pole vaulter and two, he was a official church reverend.
– he was the only two-time Olympic gold medal winner in the pole vault (he also bronzed).
– first athlete to appear on a Wheaties cereal box.
– member U.S. Olympic Hall of Fame.
– ran for President of the U.S. on the right-wing U.S. Ppopulist Party.
from Wikipedia's entry on Bob Richards
No tags for this post.