Posted on
September 19th, 2007
by Teddy Ballgame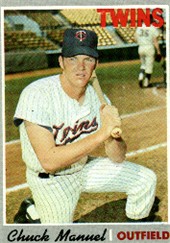 Charlie Manuel – 1970
I have been watching alot of Philadelphia Phillies games on TV this year, maybe it's because I have three Phillies players on my Illowa APBA League Chicago Champions team, maybe it's because I have two ten dollar bets on Philadelphia, 6-1 to win the Penant, 12-1 to win the World Series. Sadly I already won my only other baseball bet, $100 that my White Sox would not win 90 games this year.
However this post is not about my gambling, but rather it is about Charlie Manuel. I finally connected the dots during last night's Phillies extra inning win over the St. Louis Cardinals. The Charlie Manuel from my youth, pictured above, is the same Charlie Manuel that starred in Japan, and is now the manager of the Philadelphia Phillies.
Love him or hate him this good ole boy from West Virginia has led a pretty interesting life. The Charlie Manuel I knew as a child was a struggling major league outfielder mostly with the Minnesota Twins, who had a lifetime MLB batting average of .198, just under the Mendoza Line. Charlie, aka Chuck, started his professional career in 1963 with the Wytheville Twins, hitting .358 with seven home runs and 45 RBI's. Then he struggled till he found his stroke again in his 4th year in A-ball, at the age of 23, when he hit .313 with 15 homers and 70 runs batted in, on the downside his nose was broken, jaw fractured, and lost ten teeth when a Jerry Reuss pitch hit him in the face. Manuel had a great spring training in 1969, made the big league club, batted .266 in limited action before an ankle injury brought on an 0-for-36 drought, resulting in a .207 final batting average in his rookie campaign.
After an undistinguished major league career with the Twins and the Dodgers it was time for a trip to Japan. In his 2nd season with the Yakult Swallows Chuck batted .312 with 39 HR's & 103 RBI's, all this despite his escapades allegedly started early in the evening and concluded right up to the pre-game warm-ups. One of the most famous incidents involving Manuel was when he, Clyde Wright and Roger Repoz fought the East German hockey team in a Japanese bar (the Americans clearly lost the brawl). The Swallows won their first-ever Central League pennant in 1978 and his game seven Japan Series home run gave Yakult the victory there as well. While a hero to fans, Manuel did not get along well with Yakult's management. They did not like Charlie's refusal to participate in drills, for not shining his spikes, for eating fast food and for his poor outfield defense.
Off to Buffalo, despite his success with the Swallows Chuck was sent to the Kintetsu Buffaloes, where he hit 24 homers in the first two months, Kintetsu, which had never won the Pacific League, was in first place. A Japanese pitcher with good control hit Manuel in the face with a 90 mile per hour fastball, Japanese sportswriters speculate Japanese pitchers were afraid an American might break Japanese hitting records. Charlie made it back to the regular lineup in August, posting 37 HR's 94 RBI's to go along with a .324 batting average, leading the league in home runs. He was the first American position player to be named PL MVP, Kintetsu won their first pennant ever, Manuel batted .391 in the 1979 Japan World Series. In 1980 he led the Buffaloes to their 2nd straight pennant, batting 325 with 48 HR's & 129 RBI's. Despite his outstanding season the fans soured on Charlie when he left the club midseason to attend his son's high school graduation.
After retiring as a player he returned to the US to take a scouting job with the Minnesota Twins where his salary fell from $225,000 per year to $20,000. Charlie became the Cleveland Indians hitting coach in 1988, then managed in the minor leagues, before coming back to Cleveland as their hitting coach once again in 1994. Jim Thome and other Indian hitters attributed their success to Manuel, in 1997 Cleveland set a club home run record. Chuck's health declined, he lost forty pounds, had a heart attack and quadruple bypass surgery, five weeks later he was back in the dugout. Charlie led the Indians to a 90-72 record as their manager in 2000, despite a rockie start in which he had surgery to repair a ruptured colon in spring training. Ejected from two of the first three games, he banned card playing in the clubhouse and took away the Ping-Pong table when his team was struggling and he felt the players were too distracted. The Indians won the AL Central Division title in Manuel's second year at the helm. He was let go partway through the 2002 season after a slow start.
On to the City of Brotherly Love is where Charlie found himself in 2003 as a special assistant in order to persuade protege free agent Jim Thome to sign. In 2005 Manuel took over as the skipper of the Phillies, leading them to 88 wins, they fell to 85 wins in 2006, and this year is their year. GO CHARLIE GO!!!
No tags for this post.