Posted on
April 2nd, 2007
by The Baseball Zealot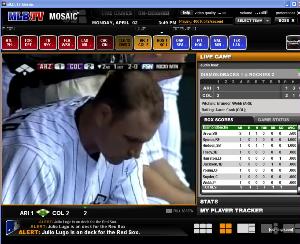 I got a chance to download, install and use MLB.TV's new version of Mosaic. I've been hearing a lot about this from MLB with all its new features so I've been looking forward to using it. Now I've used this new version for about 2 hours now so I'm only going to give you a quick first impression.
First, the user interface is much improved. I like the list of games at the top. From left to right, they are color coded: red are games that have ended, gold are games that are occurring, and blue are games that haven't started.
Mosaic has a variety of views you can choose by clicking an icon. Gone is the "Screen 1" and "Screen 2". If you want a certain game, you just click and drag it down to whatever window you want.
Interesting, it kept my players from my Player Tracker from last year. That's nice, actually. It was a chore entering them in if I remember correctly. Hopefully, there won't be a time lag like last year.
There are commercials now. I don't mind them so much but last year I got a kick out of hearing the broadcasters talk somewhat freely into the mike (I'm not exactly sure they knew folks were listening… "Ok, Bonds is coming up. Let's get this out of the way" I remember hearing).
Video is MUCH better. Of course, depending on your computer and video card, your mileage may vary.
Clicking is a bit touchy. If you're going from one program to another like I do, just be careful you don't click on an icon you don't want to.
Anyway, I think the new version of Mosaic is a definite improvement but like I said, I've only used it for short period.
If anyone else has comments or issues, please chime in.
Followup: One thing I forgot to mention… MLB.TV threw in their BaseballChannel.TV as an extra.
No tags for this post.