Posted on
October 30th, 2007
by Teddy Ballgame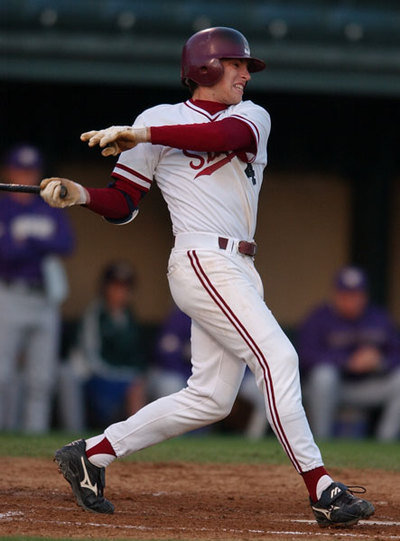 Jed Lowrie
Boston Red Sox infielder Jed Lowrie provided the most excitement of my visit to the AFL as his two-out two-run homer lifted Mesa over Scottsdale 9-8. It seems as though the rich get richer as Lowrie looks to be the real deal both in the field and at the plate. The former Stanford infielder might be the starting SS in Boston in 2008, move over Julio Lugo.
I'm looking forward to doing a podcast about my AFL experience, but in the mean time I thought I'd write a little bit about what happened.
Here are some prospects that were there…
PEORIA JAVELINAS
05/1 Jeff Clement SEA – didn't see him, was with Team USA
05/4 Justin Maxwell WAS – didn't impress, although he played with the Nats in 2007
PEORIA SAGUAROS
07/1 Joe Savery PHI – he was supposed to start the game I went to, but didn't, disappointing
NO Chin-Ling Hu LAD – this LAD SS will provide lots of "Hu's on 1st" in 2008
SURPRISE
03/1 Adam Miller CLE – looked good, should be ready for the Tribe's 2008 rotation
05/1 John Mayberry TEX – big – just like his daddy, fast – not like his daddy
MESA
05/1 Jed Lowrie BOS – walkoff homer, next year's Bosox SS, impressed in the field
05/4 Josh Flores HOU – out of Triton JC, just like Kirby Puckett & Lance Johnson
07/1 Matt LaPorta MIL – big time power, 2008's Ryan Braun
04/10 Sam Fuld CUB – fast, with power, older though
PHOENIX
05/3 Ryan Mullins MIN – lefty strikeout pitcher, Big League ready
02/33 Nyjer Morgan PIT – played hockey in Canada explains late start, 2008 Pirates CFer
03/2 Ryan Sweeney SOX – didn't impress, looked sluggish
05/1 Andrew McCutchen PIT – star of the future, this kid can do it all
04/3 Eduardo Morlan MIN – power pitching Cuban, 2008 MLB bullpen ready
SCOTTSDALE
02/39 Calvin Medlock TB – old, but impressive, should be in Tampa's pen this year
04/2 Reid Brignac TB – Devil Rays SS of the future, looks like a star
05/6 Aaron Cunningham AZ – Sox giveaway OFer to AZ, this kid is a hustling, fast, leadoff man
06/1 Travis Snider TOR – 5'11" 245, fast, with power, young, on the Blue Jays fast track
04/9 Mike Carp NYM – NYM firstbaseman, good power, nice glove, 2009 major leaguer
NO Wilkin Castillo AZ – can play everywhere, was a switch hitting catcher when I saw him
06/1 Evan Longoria TB – didn't see him, was with Team USA
Here were some interesting facts I found in the Media Guide about the players…
OF JOSH FLORES (HOU) won the national junior college batting title by hitting .519 at Triton Junior College.
OF MATT LaPORTA (MIL) was a two-time SEC player-of-the-year at Florida. He hit a Gator single-season record 26 home runs as a sophopmore in 2005 and was a member of Team USA National Baseball Team.
C JEFF CLEMENT (SEA) played on the 2003 and '04 US/National team. He set the national high school record at Marshalltown HS (Iowa) with 75 career home runs. Clement also played on the 1996 Marshalltown team that played in the Little League World Series in Williamsport, PA.
IF MATT TUIASOSOPO (SEA) is the youngest brother of NY Jets QB Marquis and the son of former Seattle Seahawk Manu. His grandfather is Chief Asovalu of a village of 800 people in American Samoa, one of six men who hold that title.
IF CHIN-LUNG HU (LAD) was MVP of the 2007 MLB Futures Game in SF.
LHP MARK ROSEN (AZ) was forced to take the mound in relief of Mobile AA teammate Matt Elliot, a 2006 AFLer, who was trapped in the bathroom for over 40 minutes after slamming the door shut behind him. The game continued with Rosen on the mound after a brief delay. The fire department eventually was called to extricate Elliot from the bathroom.
Also saw Team China defeat the Phoenix Desert Dogs 2-1. Team China's manager is Jim Lefebvre. Some coaches instructing Team China are Bruce Hurst, Duffy Dyer, Barry Larkin, & Tom Lawless.
Some 2006 AFLers that made a big splash in the big leagues in 2007 were Yunel Escobar, Hunter Pence, Ryan Braun, Mark Reynolds, & Troy Tulowitzki. The AFL is a great place to see tomorrow's stars today. The tickets are only $6.00, there are only about 100 fans in the stands, including scouts.
Some other highlights of my trip were meeting Tom (a freelance NY scout), meeting a 90-year-old fan (who'd seen Ruth & Gehrig, his wife was a vocalist for the Sammy Kaye band for five years), saw Ryne Sandberg at Don & Charlie's in Scottsdale, said hi to Roland Hemond at the ballpark in Scottsdale, and the absolute best thing about my trip was the best pizza in the world at Pizzeria Bianco. I love baseball, but I love food more!