Posted on
April 26th, 2007
by The Baseball Zealot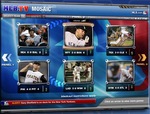 For those using Mosiac, MLB.TV says they have a new build available as of last week. Changes and fixes included in this build include:
– Swarmcast updates/bugfixes for better high quality streaming
– Addition of Swarmcast version for troubleshooting
– Video updates to mosaic client/install to detect incompatible hardware
– Mac stability/bugfixes
– CPU usage is now better on the Mac
– Additional on-demand playback updates
Good news for Mac users, I would think.
No tags for this post.