Posted on
December 5th, 2007
by The Baseball Zealot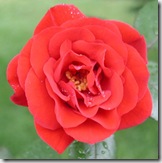 I don't want too much time to pass before I congratulate the University of Illinois football team on being chosen to play at the Rose Bowl. 
I'll admit it, I'm not a huge college football fan.  I jokingly tell my friends who know about my interests in baseball that the only reason I follow Illinois football is to make sure that wide receiver Kyle Hudson who ALSO plays centerfield for the Illinois baseball team doesn't get hurt.  That said, you can't work and live in this town without having some attachment to the team. 
The day after the announcement was made, there was quite a hub-hub around the U of I campus.  There was a lot of talk about "are you getting tickets?" and the like.  There was even a photo of linebacker J Leman, who hails from Champaign by the way, in the local paper with a rose in his hair.
The last time the Illini went to the Rose Bowl, I was in college.  We sorta got crushed by UCLA 45-9 that time. 
I think we'll do much better this time. 
Go Illini!!
No tags for this post.