Posted on
October 31st, 2007
by Teddy Ballgame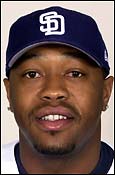 Luther Hackman
MLB-Suspended free agent RHP Luther Hackman 50 games for violating baseball's minor league drug program after testing positive for a performance-enhancing substance.
When is baseball going to get serious about performance-enhancing drugs? Well here's the first step, no baseball isn't going after the guy with more homers than anyone in the history of the game, but rather the notorious Luther Hackman. In his minor league career Luther is 57-76 with a 4.46 ERA, and has a 9-10 record with a 5.09 ERA in the bigs. But at the age of 31 in the Independent Leagues Hackman posted an 8-0 mark, with eight saves, and a 2.81 ERA. It's obvious something was fishy and I'm glad baseball did something about it.
No tags for this post.