Posted on
July 16th, 2005
by The Baseball Zealot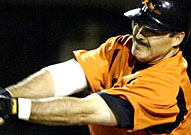 On a double he hit against the Seattle Mariners last night, Baltimore Oriole Rafael Palmeiro became the 26th player to reach the 3000-hit plateau.  He added a single before the night was through. 
Palmeiro has always been an underrated player but talk of the Hall of Fame is inevitable.  Of the 26 players with 3000 hits, all but four are in the Hall.  Three of the four (Ripken, Gwynn, Henderson) are not yet eligible.  The other one… well, you know about the other one.
But let's not stop there.  Let's not forget Raffy has passed the 500 mark in homeruns and is within striking distance of 600.  Last count, he has 566.  Using the same methodology, there are 20 players with 500 career homeruns.  Every eligible player in that group in is in the Hall (Bonds, Sosa,  Griffey and Palmeiro are still active, McGwire is not yet eligible). 
And yet, after all that, there are still those who do not believe.  Buster Olney says in his latest article,
 Palmeiro has reached 3,000 hits, and the debate is ongoing about whether he has the credentials for the Hall of Fame.
I would like to think that any thinking baseball fan would not need any more credentials than 3000 hits and 500 homeruns.  Not that Raffy doesn't have 'em.  I am curious as to what debate there is.