Posted on
October 5th, 2006
by The Baseball Zealot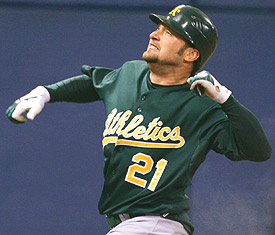 1 for 5, HR, 1 run, 2 rbi
Kotsay's inside the park homer put the A's ahead for good in Game 2.
If Hunter had caught that he of course, would be a hero but I guess the question is where was his backup on that play?
Oakland's win and Kotsay's inside jobber overshadowed the decent start that Boof Bonser had. Once again, a rookie was thrust in the limelight (see John Maine) and did okay. Boof allowed only 2 runs in 6 innings with no walks.
This puts the Twins in the hot seat. The only thing going for them is history. Twice in the last 5 years, the A's have lost Divisional Series after a 2-0 lead. Eric Byrnes, anyone?
No tags for this post.