Posted on
October 18th, 2005
by The Baseball Zealot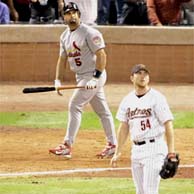 Love this picture… it tells a tale of two different moods.
Something about Pujols' homeruns lately… he knows they've gone out so he does that stroll from homeplate like "I know it's a homer so I don't need to rush myself". 
No doubt about last night's HR.  He crushed that one.
While it's true the Astros are still up 3 games to 2, the Cards have 2 things going for them.  One, the momentum has definitely shifted in their favor.  And two, they're going home.  Don't underestimate the effect of the St Louis fans. 
No tags for this post.