Posted on
October 27th, 2006
by The Baseball Zealot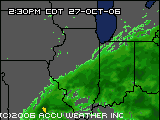 Here in Urbana, it's been cold and rainy, no doubt the same system that was affecting St Louis. Word has it that the game is on tonight though. I can't remember a postseason where the weather played such a factor. Unless you consider the 1989 World Series which wasn't really weather.
Do you think Smokin' Jim is going to call for some pitching fielding practice before tonight's game? He should. The four errors by the Tigers' pitching staff are the most by any WS pitching staff.
To the Cardinals' credit, they are winning without the bat of Albert Pujols. Mad props to shortstop David Eckstein who had 4 hits and 2 key rbis. That's not to say that Albert hasn't had an effect. By intentionally walking or pitching around him, the Tigers are avoiding the big hit but at the same time are putting additional runners on base for Cardinals hitters. Albert has one hit (a homer) but has scored 3 times.
Tonight, Detroit's backs are against the wall. They do have Verlander going so they have a chance assuming he's boned up on his fielding. Weaver has a 2.91 for the postseason but only a 2-2 record to show for it.
Play Ball!
No tags for this post.