Posted on
October 27th, 2007
by The Baseball Zealot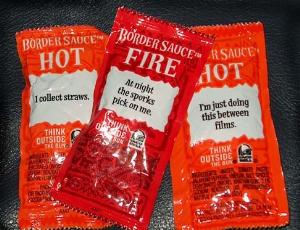 The Red Sox may be having their way with the Rockies so far in the World Series but I'll bet the higher-ups in Taco Bell Inc. are hoping this series will go seven games. They're making a killing with the "Steal a base, Steal a taco" promotion.
Fox mouthpieces Joe Buck and Tim McCarver are gleefully playing along at MLB's behest.
During Wednesday's game (from NYT):
"No stolen bases yet in the game," McCarver said, as David Ortiz batted.

"No free tacos for America," Buck said. "At some point it's going to happen."
Sad to say, I expect that. But MLB has gone the extra step. Now they gotten the players involved. While wired so we can hear their on-the-bench discussion, Royce Clayton and Coco Crisp chatted up the Taco Bell promo.
I wonder how much that was worth to the MLB.
No tags for this post.