Posted on
October 7th, 2006
by The Baseball Zealot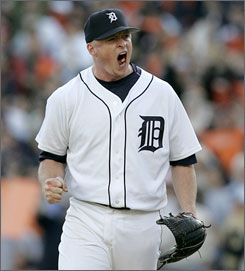 Jeremy Bonderman
After much talk by the media and baseball analysts about the Yankees and "Murderer's Row and Cano" and the Tigers getting swept by the Royals at the end of the season, we remember that this is the game of baseball. And while the game of baseball follows certain rules, we can't forget that anything can happen.
And when it does, it makes fools of said baseball analysts.
The lesson to be learned here is just as you don't call an election race before it's over neither should you call a playoff series after one game.
And before I forget, let's throw out this little playoff stat. 1 for 11, 0 rbis, 0 runs and 4 strikeouts. I'll give you one guess who that is.
That's right. Alex Rodriguez. They say players get paid the big bucks so they can perform in the crunch situations. Like playoffs. We'll see how forgiving the Yankee fans are. To give A-Rod credit, he did do some self-reflecting.
"At some point you've got to look in the mirror and say, 'I sucked.', Rodriguez said.
The Tiger Tales blog was convinced of a Detroit win over NY but never in their "wildest dreams did I think that they would win so convincingly".
They now take on Oakland in the ALCS.
No tags for this post.