Posted on
September 14th, 2006
by Teddy Ballgame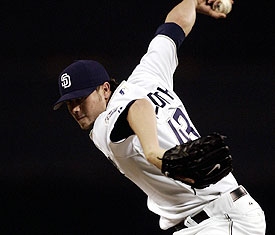 Just like the Energizer Bunny, Cla Meredith keeps going, and going, and going. Meredith pitched two innings 9/9 and established a San Diego Padres record with 31 straight scoreless innings, topping Randy Jones' mark of 30 set in 1980. Meredith's stretch is the longest in the majors this year, he has since added 2 2/3 more innings to his streak, which continues. Where did this kid come from? Well he was traded to the San Diego Padres along with Josh Bard from the Boston Red Sox in exchange for Doug Mirabelli on May 1, 2006, basically because Bard couldn't catch Tim Wakefield's knuckleball. Cla made his major league debut May 8, 2005 against the Seattle Mariners, walking the first two men he faced, before allowing a grand slam. He has come a long way since then, here are his amazing stats so far.
IP H R ER BB SO ERA W-L
Cla Meredith 40 2/3, 23, 3, 3, 5, 29, 0.66, 5-1
No tags for this post.