Posted on
August 31st, 2007
by The Baseball Zealot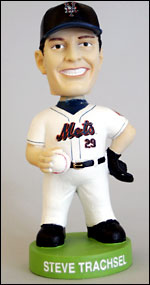 I was a little surprised to hear that the Cubs acquired Steve Trachsel from the Orioles. It's conventional wisdom that the Cubs already have a solid, deep rotation. That said, there are reasons that down the stretch and beyond, he may be useful.
With proper rest, Trach can pitch effectively if not overpoweringly. His lifetime ERA at Wrigley is solid (4.13). And beyond all that, Trachsel has a way to pitch above his talents.
Most of all, my bet is that the Cubs are trying to cover their bases. It's all too easy for a pitcher to fall to injuries right now, they are in the midst of a 22-game stretch without a day off.
Call-ups

Geovany Soto
Somebody else who will be joining the squad will be catcher Geovany Soto. What a season he's having in AAA! With 106 rbis and 31 doubles and a .353 average, he won the PCL's MVP award.
I'm really looking forward to seeing what he can do.