Posted on
March 5th, 2007
by Teddy Ballgame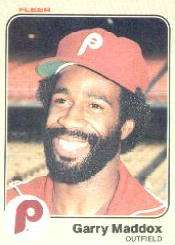 The rest is covered by Maddox was the line always
spoken about the former Gold Glove Phillie
centerfielder. Garry threw out the first ball before
my 4th Grapefruit League game of the spring. Although
the temperature didn't get much above 65 degrees, I
was in the sunshine and some of the 9,000 fans on hand
were almost better to look at than the ballgame.
The Yankees were in the HOUSE! They only brought five
players, Robinson Cano (who switched from #22 to #24,
in prep for a returning Rocket), Johnny Damon (a joke
from his Red Sox days says, looks like Jesus, throws
like Mary), Jason Giambi, Melky Cabrera, & Miguel
Cairo.
The Zealot wanted me to keep my eyes open for Illini
Grad Chris Basak. I called the Zealot when I saw
Chris playing 3B for the Bombers, while I was on the
phone, a grounder to third, resulted in a 5-3 routine
play. I yelled out, "I-L-L", "I-N-I"! Basak got to
the plate three times, a hard grounder through the
leftside for an RBI single, a bases loaded liner that
died in centerfielder Chris Roberson's glove after a
long run (that kid can FLY), and a bouncer to SS which
Basak busted down the line & was called out on a
bang-bang play. A Yankee fan said Basak lined a homer
to left Friday at Al Lang Field. GO CHRIS GO!!!
The starting pitchers were long gone when the final
was posted 10-5 Yankees. Cole Hammels looked solid
for the Phillies, but you could tell it was Spring
Training as Carl Pavano started for NY.