Posted on
March 6th, 2007
by Teddy Ballgame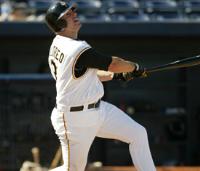 March 5th was my fifth of six Grapefruit games I'll
attend this Spring. It was my 2nd trip to Dunedin in
the past three days, two days ago it was cold, rainy,
with a strong wind, today there was no rain, and this
time I was smart enough to watch the game from field
level, in the sun – MUCH better!
Big Country, Brad Eldred, opened the scoring for the
Buccos with a BIG FLY (his 3rd of the preseason) over
the leftfield wall. Vernon Wells knocked one out for
the Jays. But Eddie Garabito was the hitting star for
the Pirates, with a homer, two RBIs, & two runs
scored. Zach Duke looked very similar to what I saw
last year, masterful out of the windup, pitiful out of
the stretch. ISU's own Jeremy Accardo struckout two
in one perfect inning for the Jays. The game ended in
an eight, eight tie.