Posted on
March 1st, 2008
by Teddy Ballgame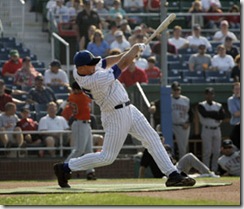 Today I went to Clearwater to see the Yankees play the Phillies. Before the game I observed a big white guy on NY, #17, hitting balls off a tee, into a net, with ARod setting him up. Later in the 1st inning, #17 stepped to the dish with two aboard, and knocked the first pitch over the leftfield wall. It turned out this big guy was none other than Shelley "Slam" Duncan, son of St. Louis Cardinals coach Dave Duncan, and younger brother of outfielder Chris.
Last season when Shelley was called up to the Yanks the end of July, he lined an RBI single in game #1, game #2 saw his first big league homer, he hit three more in his third game, and then hit his 5th in his 4th game in the show. Duncan earned his Slam nickname with his home run swing and his enthusiastic high fives! Joe Torre commented that he didn't want to be near Duncan when he did something good, because of his powerful high fives.
In September of 2007 Slam signed an autograph for a 10 year old Red Sox fan, in addition to writing his name, he wrote, "Red Sox Suck!", he later apologized to the youngster.
The 2nd time up in today's game Shelley ripped a two run double off the leftfield wall, putting the Yankees up 5-0, a fancy slide into 2B got him there safely. ARod launched a long homer over the left-centerfield fence. The Phillies were there too, but I really can't remember them doing anything.