Posted on
February 17th, 2008
by The Baseball Zealot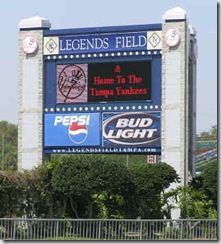 Commercial naming rights, begone. Nope, the New York Yankees have announced that they are renaming Legends Field, which has been the the Yanks' spring training home for 30 years, George M. Steinbrenner Field.
As much as he could be, the billionaire and principal owner of the New York Yankees was humbled by the action:
"I am humbled and flattered to have this outstanding and totally unexpected honor conferred on me," George Steinbrenner said in a statement. "I extend my thanks to the Tampa City Council and to the Hillsborough County Commissioners for passing resolutions suggesting and recommending the change."
The newly renamed facility is located in Tampa, Florida.
(photo: Baseball Parks of the Minor Leagues)