Posted on
March 3rd, 2007
by Teddy Ballgame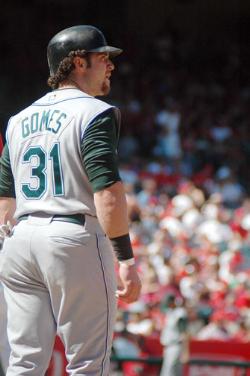 File photo of Jonny Gomes
Went to Dunedin to see the Jays host the Rays at
Knology Park. Scott Kazmir was matched up against
A.J. Burnett, but neither was scheduled to go more
than two innings. It was an overcast, blustery, cold
mid-sixties day as a local kid proclaimed, "PLAY BALL"
over the PA system. TB's Jonny Gomes hitched a couple
of drives to RF to the outgoing wind and drove them
over the wall. Troy Glaus blasted one over the
leftfield fence. Alot of media from Japan was on hand
to watch Tomo Ohka get lit up for four runs before he
settled down. B.J. Upton started the game at 2B, then
misplayed a ball in CF, maybe he should try catcher!
No tags for this post.