Posted on
March 3rd, 2007
by Teddy Ballgame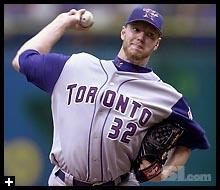 Day one of my Grapefruit League 2007 experience
started with a game between the Red Sox and the Blue
Jays. I ran into some members of the Japanese media
when I was picking up my tickets at Will Call, knowing
the Jays signed a Japanese pitcher, I said, "Tomo
Ohka". They politely smiled & nodded. After looking
at the teams rosters upon putting my fanny into my
seat, I realized Dice-K may have been the reason for
Japanese media being on hand, and suddenly didn't feel
so well informed. However I was vindicated when I
noticed the BoSox only brought four major leaguers to
this road game, Willy Mo Pena, Eric Hinske, Alex Cora,
& Dustin Pedroia.
87 year old Mickey Carroll, a Munchkin from the
original Wizard of Oz, threw out the first pitch.

Turns out he's a HUGE St. Louis Cardinals fan, who
even knew Dizzy Dean. Melissa McGhee from American
Idol fame sang both the Canadian (needed crib notes)
and the American National Anthems. There's a very
entertaining beer vendor, who yells things like,
"AAAAY", "GENUINE MOLSON IN A BUDWEISER CAN", "BUY A
BEER, GET ONE BEER, BUY TWO BEERS, GET TWO BEERS", and
my personal favorite, "IF YOU CAN'T CATCH A BALL,
CATCH A BUZZ". He even sang, "TAKE ME OUT TO THE
BALLGAME" during the 7th inning stretch.
Aaron Hill paced the Jays to a 4-1 win with a two run
homer to left, while Roy Halladay picked up the
victory.