Posted on
December 21st, 2007
by The Baseball Zealot
This is the second in a three part series of the websites I find incredibly useful when researching the game of baseball. In Part One, I got to the heavy hitters but these websites are equally important. They are more focused on prospect forecasting, player development, and scouting.
Again, in no particular order: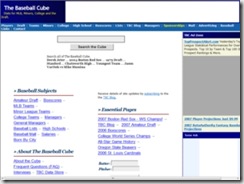 If I'm researching an up-and-coming prospect, The Baseball Cube is one my first stops. Yes, TBC has major league stats but to me, its strength is that I can easily find minor league and college numbers on any player.
Like other stats sites that cater to Major League baseball, TBC provides us with the same interactivity with minor league and college baseball teams. College team pages even provide quick links to players who have been drafted.
The stats are complete (they even include Spring Training numbers). In addition, the TBC has a baseball draft index that includes every baseball draft that occurred. One project that The Baseball Cube seems to have undertaken is the High School Alumni database matches players from their high school.
For updates, commentary and other related Baseball Cube matters, you can read The Baseball Cube Blog.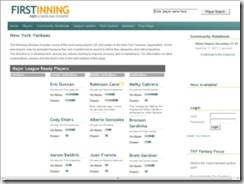 First Inning bills itself as the website with "Insights on Baseball Player Development". All players from rookie league to the major leagues fall within its scope. For each prospect and big leaguer, you get a host of statistical data from the basic stats to longitudinal trends to even batted ball charts.
For each MLB team, we are treated with a list of prospects categorized by readiness. Quite handy for those fantasy rookie drafts.
My personal favorite part of First Inning is the "Your Page" function. You can register for free then if you want to follow a player, his link will be on your page in First Inning. This is particularly useful for those minor leaguers you want to keep track of.
For everyone, Baseball Prospectus provides articles with excellent analysis not to mention their podcast, Baseball Prospectus Radio if you like your analysis in audio format.
Baseball Prospectus Online is the companion website to the popular Baseball Prospectus annual publication. It isn't strictly dedicated to fantasy baseball or news reporting, but somewhere in between with a strong slant on statistical analysis. Stats like VORP, EqA, and PECOTA are defined and well-explained. Some of the best baseball writing you'll find anywhere on the web or in print can be found here. I would rank Will Carroll as my favorite. His analysis of baseball injuries and the effects of steroids is the best in the business. Full access to all the Baseball Prospectus online content costs $39.95/year. Unlike all other pay sites, this one is full worth the money spent. In fact, it is the only web site that I personally pay money to read. It's that good, whether you're fantasy junkie or news hound, there's a lot of worthwhile stuff to be found here.
Thanks to Shawn Lee who contributed to this article. When I informed him of my idea for this series, he rattled off a bunch of websites he uses… some I've never heard of. Maybe I'll get HIM to write an update to this article someday.
Part 3, which will be an fun, eclectic assortment of websites, is forthcoming.
No tags for this post.