Posted on
May 15th, 2007
by The Baseball Zealot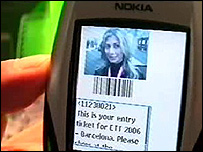 It was only a week ago I blogged about the Oakland A's who were the first professional US team to employ mobile ticketing which delivers tickets to fans' cellphones and can be scanned at the ballpark.
Technology moves fast.
Since then the Pittsburgh Pirates organization has also been part of the test trial as well as the Washington Nationals. Mobiqa, the firm behind the service called Tickets@Phone, has deemed the service ready for prime time. In conjunction with Tickets.com and Major League Baseball Advanced Media, they
will deploy it to twelve baseball clubs.
From Technology News UK:
"Tickets@Phone offers many benefits over paper or e-tickets and is undoubtedly the next step in customer service and ticket delivery," Bob Bowman, President and CEO of MLBAM, explained.
Now if only I had bought stock in Mobiqa two weeks ago.
Followup: Here's a link I found with a little more info on Mobiqa and Tickets@Phone.
No tags for this post.