Posted on
April 18th, 2006
by Teddy Ballgame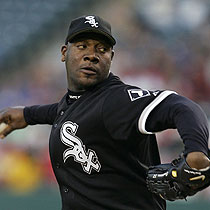 Went to the Cell last night with Rob T & Nicky V. In the 3rd inning Nicky V asked if either of us had ever witnessed a no-hitter. Rob T & I think we were at the Joe Cowley no-hitter, but he lost that game. Nicky V & I were at the Alex Fernandez one hitter against the Cubbies a few years back when Alex was with the Marlins. And the first game that I ever tried to buy tickets for was when Ken Holtzman no-hit the Braves, but it was sold out (ended up seeing the Reds a week later). Of course the 1st game I attended was at County Stadium in Milwaukee the Boys Benefit game between the White Sox & Cubs in 1968, but faithful BZ readers already knew that.
On this night Jose Contreras was dealing and the KC Royals were hopeless. It was 5-0 after one as Paul Konerko launched a three run blast and Joe Crede nailed a two run shot. Crede's came after Angel Berroa held the ball and then fired late to 1st rather than turning the easy DP on AJ Pierzynski. The Sox added four more runs to make the final 9-0 Good Guys. Mark Grudzielanek got the only hit of the night, a one out double in the 4th inning, just inside the thirdbase bag. John Buck later walked, but was nailed trying to steal a base despite his team trailing by a ton. Nicky V wasn't the only guy who thought Contreras was throwing no-hit stuff up there, see Paulie Konerko's comments.
Jose Contreras W 7 IP, 1 H, 0 R, 0 ER, 1 BB, 6 SO
Boone Logan 1 IP, 0 H, 0 R, 0 ER, 0 BB, 1 SO
Cliff Politte 1 IP, 0 H, 0 R, 0 ER, 0 BB, 0 SO
No tags for this post.