Posted on
March 25th, 2006
by The Baseball Zealot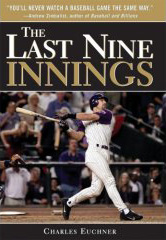 I've gotten an advance copy of The Last Nine Innings: Inside the Real Game Fans Never See
by Charles Euchner.  I've been reading a chapter or two each night and it's unlike any baseball book I've read before.  I'd recommend it for hard core baseball fans or for those casual fans who want to get a little more out of the game.
As a backdrop, The Last Nine Innings uses the last game of 2001 World Series between the Arizona Diamondbacks and New York Yankees.  But it would be inaccurate to say that the focus was on that particular game itself.  Rather, Euchner dissects each practically each at-bat and uses it to analyze the game of baseball and how it is played.  From there, he draws in outside references, historical and current, to give us an inside look of baseball.
The story begins with the first pitch of Game 7 and goes from there.  Euchner covers the physics of baseball, the selection and location of pitches, the importance of the catcher, the swing of the bat, managerial decisions, pretty much everything that happens during the course of a baseball game. 
For those baseball experts who think they know everything there is to know about baseball, read The Last Nine Innings.  I guarantee you will learn one or two things you didn't know before and you will get more out of watching the next ballgame you go to.
The Last Nine Innings is now available at Amazon.com
.
No tags for this post.