Posted on
July 15th, 2006
by Teddy Ballgame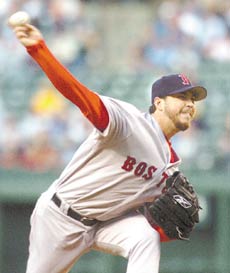 Boston Ace(?) Josh Beckett got bombed again, this time by the A's in a 15-3 loss. Beckett has a winning record of 11-5, despite leading the league with 27 homers allowed, and a 5.12 ERA. There is a serious concern he may develop whiplash from watching balls sail over his head as they leave the ballyard, or post tramatic stress syndrom from so many bombs going off.
Maybe David Ortiz would have won the HR hitting contest in Pittsburgh had he used teammate Josh Beckett as his pitcher, especially if David told Josh to try to get him out.
No tags for this post.