Posted on
June 13th, 2006
by Teddy Ballgame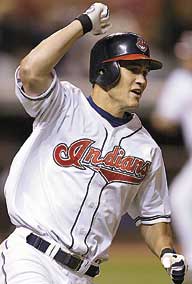 The Chicago Champions took five of the first six games versus the Chicago Highlanders, before settling on a 6-3 series win. The win closed the gap between the two teams to just one game, the Highlanders holding the advantage. In case you're wondering what I'm talking about, lemme tell you, this is my latest series in the Illowa APBA League. I've managed the Chicago Champions for over thirty years and have ten championships to my credit. The IAL is a 8/10 team draft league that was established in 1975. Some of the Champion stars down through the years have been Mike Schmidt, Jim Rice, Gary Carter, Cal Ripken, Joe Carter, Jeff Bagwell, Dave Stieb, & Orel Hershiser. Some of the key members of this year's team are ARod, Grady Sizemore, Victor Martinez, Jimmy Rollins, Lance Berkman, Carlos Lee, Mark Buehrle, Brett Myers, and Greg Maddux (298 career wins, and counting).
APBA is a dice game with players' cards based on what they did the previous season. Cleanup man Grady Sizemore hit four homers with nine RBIs in the nine game set. A.J. Burnett pitched two complete game victories, allowing one earned run, 2 hits per game, 2 walks, and punched out 17 batters, beating Roger Clemens (13-1, 298 career wins, and counting) for the first time this year. We're not even halfway through with the season, check out what's happening in this league by clicking on the Illowa APBA League, and let the good times roll!
No tags for this post.