Posted on
October 15th, 2005
by The Baseball Zealot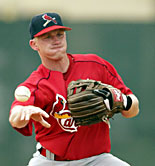 The more I see of David Eckstein, the more I am impressed by him.  Nobody gets more production out of such a small frame than he does.
According to Thom Brennanman and Co, he is third in the majors in pitches seen per at-bat.  His batting average with RISP is frightfully high.  So is his average with two strikes.
This was very apparent in Thursday's game of the Hou-StL series.  In the 5th inning down by two and a runner on second, Eckstein was up.  Houston pitcher Roy Oswalt got a quick 1-2 count on Eck.  But Eck worked the count in his favor and finally coaxed a walk out of Oswalt.  With two runners on and Edmonds and Pujols up next, the possibilities could have been fatal for Houston.  As it was, Edmonds struck out to end the inning. 
No tags for this post.