Posted on
June 10th, 2006
by Teddy Ballgame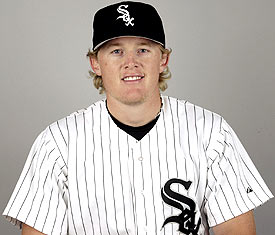 0 for 3 with a punchout looks like the same old, same old when it comes to a game played by White Sox centerfielder Brian Anderson. Some fan even yelled at Anderson to report to Triple A after his strikeout, hope it wasn't me. But sometimes statistics don't tell the whole story. The Indians took the lead 4-2 when Travis Hafner took Sox reliever Neal Cotts deep for a three run 6th inning dinger. Jermaine Dye answered the call cutting the lead to one with a two out sixth inning drive of his own. In the top of the 8th with two on Travis Hafner ripped a sure double over the head of Anderson, but Brian raced to the back, catching the ball, before crashing into wall at full speed, amazingly he hung on. The momentum really changed at that point, you could feel it. Jim Thome walked with two outs in the bottom of the eighth, Paul Konerko doubled him to 3rd, Jermaine Dye fouled off a bunch of pitches before singling to center, scoring two. BIG BAD Bobby Jenks closed it out in the 9th. Fireworks after the game. Before the game there were about twenty of us in the Patio Area to celebrate RobT's 50th. It was also KLuke's 17th birthday. Happy Birthday to all! Keep Brian Anderson in the Bigs!
LET'S GO WHITE SOX!!!
No tags for this post.