Posted on
December 6th, 2006
by Teddy Ballgame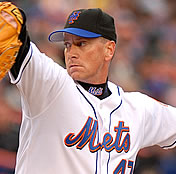 Tom Glavine
The NY Mets decided to keep Glavine in their rotation and more importantly Tom decided to stay. It was rumored the Atlanta Braves were going to try to lure the veteran lefty back where he started, but they never stepped to the plate to make an offer. Glavine said, he's grown comfortable in NY and has fallen in love with the fans of Shea. He is only ten wins shy of 300 wins and is still going strong at 40 years of age.
I drafted Tom Glavine for my Chicago Champions of the Illowa APBA League way back when, he was selected, after posting a 2-4 record with a 5.54 ERA over nine starts. But then I was silly enough to trade Glavine along with Melido Perez for an aging Kirk Gibson & Pete Smith. The Baseball Zealot & his Twin City Thunderchickens benefitted greatly because of this bad trade.
No tags for this post.