Posted on
November 9th, 2005
by The Baseball Zealot
  Color me surprised.  Maybe I'm different but I didn't expect these two win the award.  Not to say they deserve it in any way or anything like that but I guess I didn't see them as high profile as Cano or Taveras. 
Street saved 23 in 27 opportunities (in other words, he blew 4 games in 27 opp. but hey, it's all perspective) with a 1.72.  He is the second Oakland player in two years to win the award.  Bobby Crosby won in 2004. 
Howard bopped out 22 dingers in 2005 for the Phillies.  The media touts that half of these were during the Wild Card hunt.  The Phils were 16-6 when 16-6 when Howard when he homered.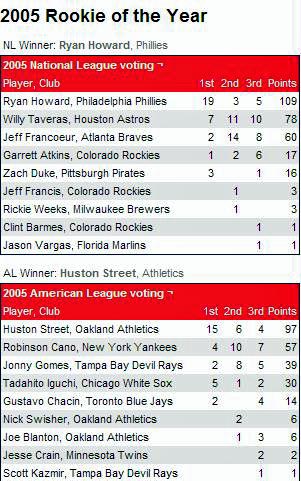 from mlb.com
No tags for this post.