Posted on
June 15th, 2006
by Teddy Ballgame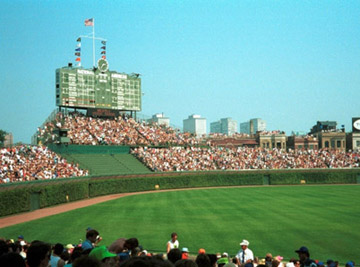 Learned some new words to Take Me Out To The Ballgame as sung by some Bleacher fans at Wrigley Field. It goes, Root root root for the Cubbies, if they don't win it's the same. Now that's a song I could sing along to while enjoying a beautiful day at the ballpark in Chicago. And as I was singing these newly learned verses I knew they would proove prophetic. Somehow there was some sadness as I was sitting next to an eight year old fan attending his first Cub game, oh the misery he will endure. Some fans are used to the inevitable, Judy's been coming to the Bleachers since 1963, Marvin since 1947, and newbie Holly for the last nine years. Judy's husband John was needling her all game long, but if she was totally honest she'd have to admit he was only telling the truth.
The Cubbies played little ball in the 1st inning when Juan Pierre bunted his way aboard, stole 2nd, was bunted to third by Tony Womack, and scored on Mike Barrett's sac fly. Then they flexed their muscles in the 2nd when Jacque Jones launched a missle into the RF stands. But that was it as far as Cub highlights were concerned. In the 5th the Astros got on the board when Adam Everett doubled to left, after Carlos Zambrano made him look sick in his first plate appearance. There were some other game changing moments; Todd Walker hitting into a DP on a 2-0 pitch after the leadoff man got on, Walker throwing wide to 2nd on a potential DP ball that loaded the bases and setup a game winning two run single, Jacque Jones throw home from right that barely made the infield on a woeful attempt to nail Lance Berkman as he scored the go ahead run, Womack not being able to get the ball out of his glove on an easy DP turn, the Cubs not scoring after Freddie Bynum got a leadoff triple to left, Chris Burke made two great stops on grounders to keep Freddie at 3rd and an easy bouncer to Burke closed out the frame, and then Chris Burke got a leadoff eighth inning single off Bobby Howry (who'd come on to relieve Zambrano, pitch count). Brad Lidge struckout the first two Cub batters on six pitches, then got pinch hitter John Mabry to bounce out to Burke to end the game. There were 40,236 fans in attendance, paying the Tribune, telling them they like bad baseball, and never need to put a good baseball team on the field.
There's a joke going around the Cubs can't keep their website up, they can't seem to string three W's together, too bad they couldn't just string three L's together. Sing it… If they don't win it's the same.
No tags for this post.