Posted on
September 20th, 2006
by The Baseball Zealot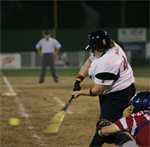 Jenna Hall back in her Illini days
Jenna Hall who was probably the best softballer the University of Illinois has ever seen, is making waves in the National Pro Fastpitch world. After her first year with the Philadelphia Force, she has won a spot on the All-NPF team.
She led her team in homeruns, rbis, walks and slugging.
Assistant GM Jen Carlo said of Hall, "She showed great adjustment at the plate and was a true offensive leader throughout the year. She's just one of those hitters that pitchers do not want to face, and that's great for the future of the Force."
As someone who has seen Jenna hit, none of this surprises me.