Posted on
December 7th, 2006
by Teddy Ballgame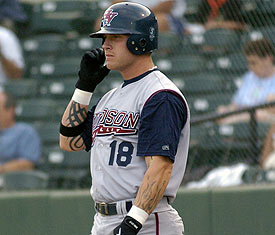 Josh Hamilton
The year was 1999 the Tampa Bay Devil Rays had the first pick in the draft and they used it to draft the raw talented outfielder Josh Hamilton, and game him a $3.96 million signing bonus. They envisioned an outfield of Carl Crawford, Rocco Baldelli, & Josh Hamilton. But as we all know the best laid plans of mice & men, not to mention that it's never a slam dunk to make it to the majors no matter how much talent you've got, then there was the 2001 spring training truck accident and the drugs & alcohol.
Now we fast forward to 2006, the Rule 5 Draft, the Chicago Cubs selected the lefthand hitting Josh Hamilton with the 4th pick from Tampa Bay, and then traded him to the Cincinnati Reds. Hamilton, now 25, appeared in 15 games for Hudson Valley of the Class A Short-Season New York-Penn League. It was the first on field action in four years for the former #1 pick.
He met Reds manager Jerry Narron and played youth ball for Jerry's brother Johnny. So Cincinnati will give him a fresh start, his last start.
No tags for this post.